Join the Tahoe Clean team!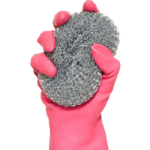 We are looking for motivated and dependable home cleaners to help us provide our top-shelf service to our clients and grow our company.
We are based in South Lake Tahoe and would love for you to join us!
Why should you work with Tahoe Clean?
Because we can offer you great pay (more than you would make at the resorts), flexible hours and shifts, the opportunity to grow with our company and you would be working with awesome people.
---
We are looking for people who:
Are fast and efficient, but never so fast that our cleans are less than perfect.
Are always upbeat and considerate of our client's needs.
Trustworthy and polite.
Are reliable and have good time management skills.
Can work as a team and also work solo when needed.
Have a great work ethic.
Are always looking out for their team-mates.
Love flexible hours and work schedule.
If you are interested in joining our cleaner's team, please send your resume with 2-3 recent references to: tahoeclean1@gmail.com
Notes:
We background check, interview, and reference check all applicants prior to joining the Tahoe Clean team.
Fluency in English is not required, but you must have enough English speaking/reading/writing skills to get the job done. 🙂
All applicants must have cell phone (Smart Phone a plus) with ability to send and receive text messages for email communications.